Medill Journalism Residency program celebrates 50 years
Students gain real-world experience at professional media outlets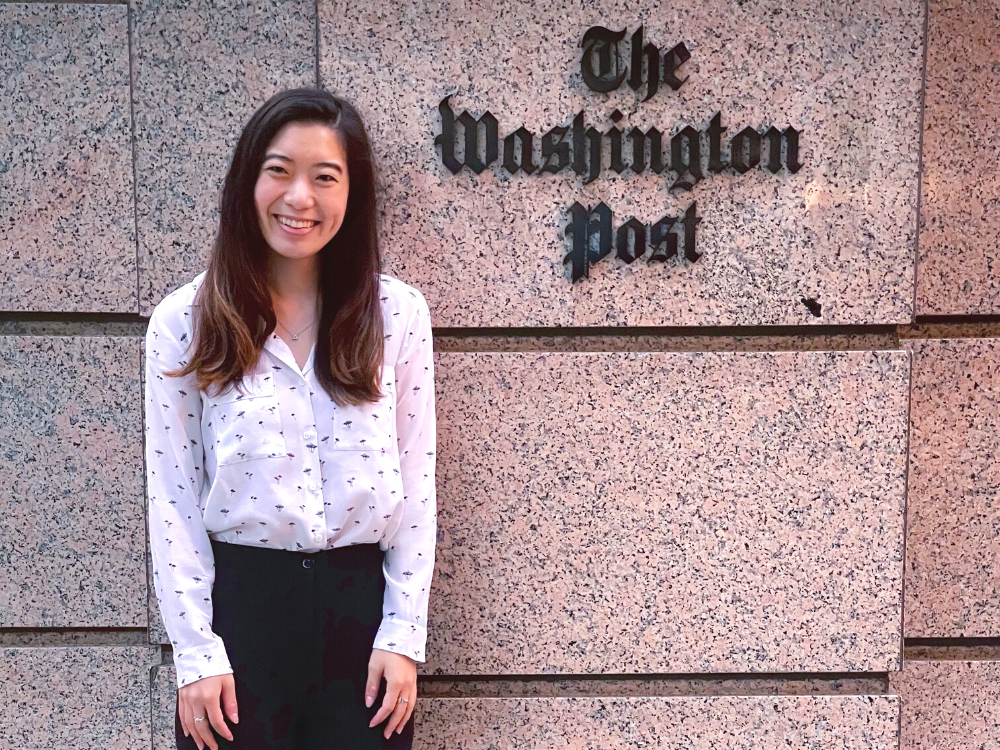 EVANSTON, ILL. -- Though it's been known over the years by different names, such as Teaching Newspaper and Teaching Media, one of Medill's most distinctive and influential programs, now called "Journalism Residency," is celebrating its 50th anniversary in 2022.
With the goal of giving undergraduate students hands-on experience in a professional environment to prepare them for jobs, Journalism Residency (JR) provides students with positions at all types of media outlets, including national daily newspapers, local television stations, online publications and communications agencies. More than 150 Medill students participate in Journalism Residency each year.
"Our go-getters seize the day, or actually, the 11 weeks," said Medill Assistant Professor Karen Springen, who directed the JR program from September 2014 through June 2022. "They give their dream job a test drive – with mentorship from their Medill faculty adviser and from their on-the-job JR site supervisor. It's usually an extremely positive, life-changing, experience. Most students give their JR's an 'excellent' rating at the end."
The program started with the Southern Illinoisan in Carbondale, Illinois, and the Burlington Hawk Eye in Burlington, Iowa, and later expanded to tracks known as Teaching Newspaper and Teaching Magazine. In 1996 they all became known as Teaching Media, and in 2007 as Journalism Residency.
Some students use their JR experience to launch their careers at other companies. For example, Tyler Pager (BSJ17) landed an above-the-fold front-page story in The Boston Globe during his JR at the D.C. bureau and now covers the White House for The Washington Post. Others work at their JR site post-graduation. For example, Brock Colyar (BSJ19) interned at New York's The Cut and works as a full-time writer for the magazine now.
Allyson Chiu (BSJ18) was a local reporting intern for The Washington Post during her JR in Washington, D.C., and now is a wellness reporter for the Post.
"The JR program offered a chance for me to get my foot in the door and allowed me to work with a number of people who played a role in helping me land a permanent position as a reporter on The Post's overnight Morning Mix team about a month after my JR ended," she said.
During her JR, Chiu was exposed to a wide range of assignments, including breaking news, crime, and education stories. She even successfully pitched a mini-beat focusing on local sustainability efforts in D.C.
"I had the opportunity to further hone my reporting and writing abilities while gaining the invaluable experience of working in a top newsroom," she said, "JR was a hands-on reporting experience that allowed me to work on becoming a more efficient, well-rounded and resourceful journalist."
Mike Semel, her on-site supervisor during JR and local editor at the Post, mentioned her strong writing skills, good eye for stories and creativity.
"That good eye really helped us reach new readers," he said. "She has continued to show her creativity and enterprise during her years since then with clever, timely, meaningful and engaging reporting that meets readers on our many platforms."
Other students have taken their JR experience to then become on-site supervisors for the company they worked for.
Heather Budimulia (BSJ17) started as an intern for Yakkety Yak, a full-service digital marketing agency in Chicago, started by Medill alum Ashley Logan (MSJ13). Her JR experience allowed her to apply journalistic principles to marketing tasks by writing blogs, social media posts and newsletters.
 "While I don't practice journalism in the traditional sense now, I love content marketing and think it is an honest, effective way to reach your target audience," she said. "I still stay close to the work and love that I can show my team the ropes because I've done a lot of these tasks myself."
Budimulia, now an account manager at Yakkety Yak, serves as the on-site supervisor for Medill students completing their JR. "I'd encourage all Medill students to savor their journalism residencies," she said. "There are very few spaces in life where such smart industry veterans are willing to share their expertise with you and walk you through their day-to-days. Come ready, ask questions and make connections."
Zamone Perez (BSJ22) completed his JR quarter during the pandemic as a remote intern for Foreign Policy, a news publication focused on global affairs, current events and domestic and international policy. Perez spent most of his time in the podcast division, where he wrote transcripts, interview requests, social media posts and pulled clips for episodes.
"I had many different tasks, each seeking to help improve and familiarize myself with the day-to-day of audio production," he said. "Eventually, I took the helm in producing a weekly show called Foreign Policy Playlist." After JR, Perez was asked to stay on the team part-time throughout his senior year at Medill.