Smriti Khanna
Smriti Khanna (IMC16)
Global Brand Marketing Manager at YouTube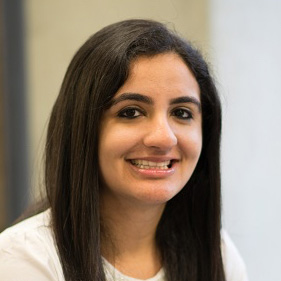 What is your current job? What attracted you to it?
As an analytical lead at Google, I work with some of Google's largest advertisers to better inform their digital marketing decisions using data. The role entails working closely with the account teams to share insights developed using both Google and client data to create actionable recommendations that have business impact. Prior to IMC, my work experience was in brand strategy working mainly with traditional media; however, I was attracted to this role both because of the opportunity to work in the rapidly evolving digital media space and also because it is a blend of art and science and leverages strategy, analytics and communication skills.
How did IMC prepare you for this position?
I refer to the timeless IMC principles of customer centricity and data-driven decision making every day in this role. During my time at Medill, I took a variety of classes across Brand Strategy, Digital Marketing and Analytics and through the concepts, case studies and real-world projects with clients, I was able to further develop my problem-solving and communication skills that greatly help me through my work.
Is there one class that you refer back to at work?
I found the parts of the curriculum with hands-on application of what we learned in class really valuable. Both the Immersion Quarter as well as my work as a Research Fellow at the Spiegel Research Center involved us working in teams with clients to consult them on real business problems and applying the IMC principles to analyze their data and provide recommendations. These experiences really helped to build strategic thinking, teamwork and communication skills and I look back on them as some of the highlights of my IMC experience.
Who influenced you the most at Medill and how?
I was most influenced by my classmates—the diversity of backgrounds, experiences and ways of thinking really took my IMC experience to the next level both inside and outside the classroom. By having the opportunity to work in different teams throughout the program, I have formed lifelong friendships with my classmates that will endure as we continue to progress in our lives and careers.
What advice would you give you to a future IMC student?
I would definitely advise them to look at their time in the program as a risk-free way to learn and experience something outside their comfort zone. With the rapidly changing pace of marketing, where all the different disciplines are so interconnected, getting exposure by taking a class or participating in a committee completely different from your core interests really helps to provide a different perspective and accelerate your learning even further.