Experiential Learning
In the IMC Professional program, we believe learning happens in many forms. We have developed various programs and activities that take place outside of the traditional classroom learning environment. This increases your opportunities for learning by providing skill-building, networking, industry intelligence and career development. We also like to have a little fun with less formal opportunities to connect and get to know each other. In addition to in-person events, we most events online and livestream or record them when possible.
Workshops
Workshops offer additional training in cutting-edge areas of marketing. Workshops are held on campus in both Chicago and Evanston, or online.
Workshop examples:
Adobe Creative Suite
Creative Strategy: Planning Digital Content and Designing Feed-Breaking Prototypes
Customer Relationship Management (CRM)
Google Analytics
Influencer Marketing
Pinterest Creative
Privacy, Data Protection and Identity Landscape
Salesforce Marketing Cloud
Social media analytics
Tableau
The Art of Storytelling
Speaker series
In Medill IMC, we believe in the power of human connections through networking. Guest speakers and panels provide vital opportunities for you to learn from marketing experts across industries and build your professional network. Our speakers are top industry professionals in innovative fields of marketing. In addition, our alumni frequently give back to their alma mater and fellow Wildcats by serving as speakers or panelists.
Recent speaker events:
Agency-Side vs. Client-Side Panel
Medill Women Entrepreneurs Panel
Medill Brand Activation Challenge
Medill: Above the Ceiling Event
Fireside chat with WunderLand Group
Guest speakers
We regularly bring guest speakers to assist with our students' learning. These industry professionals help illuminate topics from digital marketing and email marketing to programmatic ad buying and content marketing and more.
Recent guest speaker examples:
| | |
| --- | --- |
| Name | Title |
| Suman Chagarlamudi | Head of Solutions Engineering at Pinterest |
| James Clear | Author of Business Best-Seller, "Atomic Habits" |
| Jose Costa (IMC04) | Chief Development Officer at Bojangles'​ Restaurants, Inc. |
| Shannon Dan | EVP, Agency Services at Intersport |
| Dan Golden | President and Chief Search Artist at Be Found Online |
| Jeremy Gottlieb | Chief Digital Marketing Strategist and President of Lupa Digital Inc. |
| Larry Hughes | Director of Customer Data Platforms at Keurig Dr Pepper |
| Kyle Johnson | Solution Designer at Adobe |
| Julia Kiley | Director of Customer Data Platforms at Keurig Dr Pepper Inc. |
| Josh Lee | Senior Consultant, Adobe TV Analytics at Adobe |
| John Manley (IMC03) | CMO at Chew |
| Liz Metz | VP of Global Nonwovens at Kimberly-Clark |
| Elly Moody | Digital Customer Satisfaction and Engagement Strategy Manager at McDonald's |
| Will Post | Industry Manager, U.S. CPG - Global Marketing Solutions at Facebook |
| Robbert Rietbroek | Senior Vice President and General Manager at Quaker Foods North America |
| Chris Russo | CEO at Fifth Generation Sports |
| Ken Seiter | EVP of Marketing Communications at Toy Industry Association |
| Ram Singh | Chief Analytics Officer at Performics |
| Judy Toland | VP and Head of Scaled Solutions, Global Business Marketing at Facebook |
| Justin Wood | Director of Strategic Insights at LRWMotiveQuest |
Site visits in Chicago and San Francisco
Visiting an organization provides a unique window into a new world. At Medill IMC, we believe in not just telling, but showing our students. Site visits can bring together multiple marketing disciplines and bring cross-function roles into one space.
Recent site visits:
McDonald's corporate headquarters, Chicago
Vibes Mobile Marketing, Chicago
Square headquarters, San Francisco
Chicago Tribune Newsroom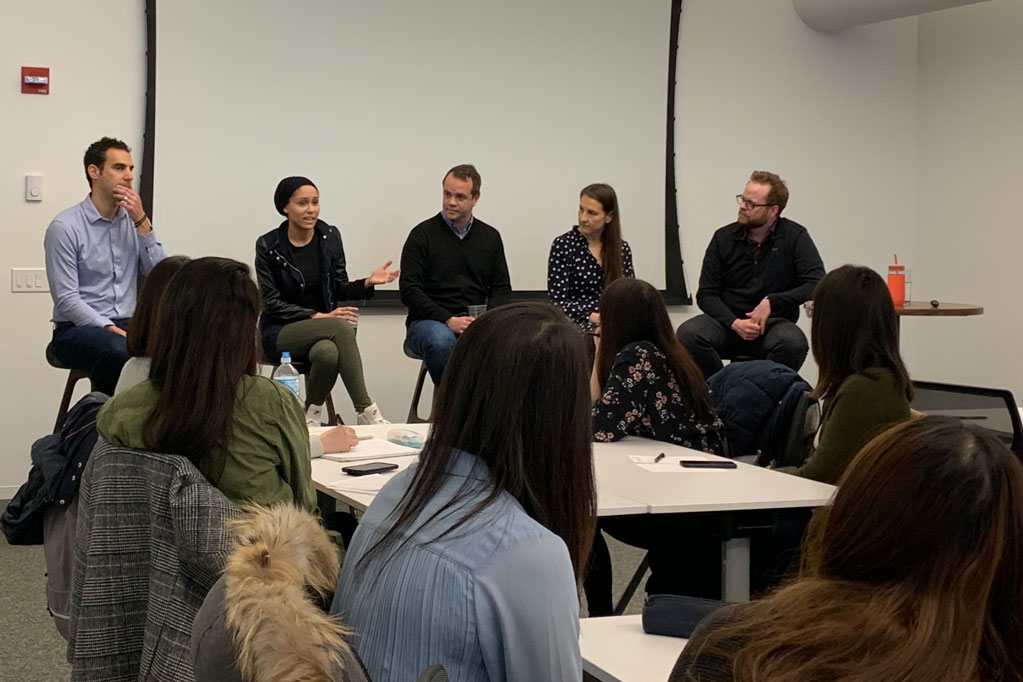 Student meetups and informal networking
These events provide a great way to get to know your fellow classmates and build your professional network. These include both in-person and online events to ensure all of our IMC Professional students have the opportunity to meet one another, regardless of where they live.
Recent informal networking events:
Virtual meditation session
Virtual coffees
Happy hour and wine tasting
Fireside chat with the Mayor of Evanston
Peer-to-peer mentorship
The Peer Program pairs current and incoming Medill IMC master's students, allowing for community, mentorship and coaching across our master's student programs. This is a great way to meet, network and socialize with other students.