Christie Post
Christie Post (IMC19)
Senior Digital Marketing Strategist at Studio X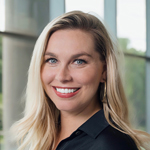 Medill Integrated Marketing Communications alumna Christie Post is a storyteller. After telling powerful stories as a sports and investigative journalist, she transitioned to a digital media startup role and found marketing as a new outlet for storytelling. She wanted to learn more, so she decided to pursue a master's degree at Medill. 
While in the IMC program, she started a new job as marketing director at Hypergiant, a technology and defense company that designs and builds artificial intelligence solutions for Fortune 500 companies. Shortly after graduating from Medill, she became the senior director of creative partnerships and brand at Hypergiant. She is now Senior Digital Marketing Strategist at Studio X.
Tell us about your career journey.
I started my career with the production arm of the National Basketball Association interviewing athletes such as Lebron James, Kobe Bryant, and Shaquille O'Neal. I thought I would stay in sports journalism forever until I got my first local news job. I became enamored by investigative journalism and government relations, working all over the country as an on-air anchor and reporter.
I left the TV business to work for the digital media startup, The Penny Hoarder, where I helped start the social media and video departments from the ground up. Utilizing data analytics, I devised integrated strategies and secured opportunities to increase ROI while championing the use of marketing intelligence.
During my time in the IMC program, I worked directly with clients to develop multi-faceted marketing campaigns, design custom innovation strategies and prototypes to attract new customers, and achieve revenue targets. I've experienced the innovation process and learned how to attract customers using large-scale analytics to develop communications along their decision journey, which prepared me for my new job.
How has the IMC way of thinking helped you in your career?
Training at Medill has given me more empathy for the consumer, taught me how to use data to attract target audiences, and shown me frameworks to cultivate innovation as the world continues to rapidly change with technology. Companies are always looking for what's next. I feel more prepared than ever to come up with creative solutions that benefit consumers.
Why did you decide to pursue your master's degree and choose Medill IMC specifically?
I spent years researching graduate programs that taught world-class business and integrated marketing strategies. Nothing measured up to the IMC program at Medill. I specifically chose this program in order to have the flexibility to work a full-time job and attend school. Having the autonomy allowed me to move from St. Petersburg, Florida to Austin, Texas to pursue a new job.
What is an experience or class from the IMC program that stands out for you? Why? 
The IMC program has given me multiple opportunities to work directly with clients all over the world. I will never forget the IMC brand innovation course in Santiago, Chile. We had five days to learn about challenges within the legacy organization, Agrosuper, and leveraged innovation strategies to create a short-term and long-term marketing strategy. This experience helped broaden my horizons and equipped me with the knowledge of how to develop innovation within a large, static organization.
Tell us about the on-site immersive courses you've taken, including the one in Chile.
The IMC program is tailored for busy working professionals like myself, but it also provides several in-person, hands-on experiences. I applied for weeklong courses in San Francisco, Santiago, Asia, and Evanston. All of them allowed me to network with industry professionals, establish relationships with fellow classmates, work with real clients and provide an understanding of how to tackle business problems and attract consumers through integrated marketing communications strategies in various markets. These projects made an impact on me personally, and I'm still in awe by the overwhelmingly positive feedback from the clients. While searching for a new job, sharing these accomplishments became a crucial talking point in the interview process. 
Have you leveraged the Northwestern and Medill alumni networks?
Being a part of Northwestern and Medill has made the world a little bit smaller. I've been able to leverage alumni networks to grow my career and establish lifelong friendships. I wear my Wildcat gear proudly and I'm forever grateful for being a part of this program!