Cindy Chang
Cindy Chang (IMC18)
Senior manager of National Media at Fox Entertainment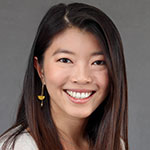 Cindy Chang (IMC18) jumped into a career in media because she says she was looking for a fast-paced job where no two days are the same. She also knew that she wanted to be in a strategic role where she would be able to see how multiple different pieces of the organization come together to drive business goals. Now, as senior manager of National Media at Fox Entertainment she is able to do just that.
How did the Medill integrated marketing communications master's program prepare you for your current role?
The IMC program taught me how to make thoughtful business decisions and recommendations grounded in both qualitative and quantitative insights. It also put me in a consumer-focused mindset where I'm always looking for ways to better serve our clients. Moreover, the program also taught me how to be a valuable team player to both internal and external teams.
How do you apply the IMC way of thinking that uses both art and science in your job?
We utilize consumer behavior data online to inform our media recommendations. However, beyond data, we also take into account environmental changes. Every media recommendation is different and is backed by both art and science.
What did you do during your Immersion Quarter?
I was at Igloo Products Corp during the Immersion Quarter where we put together a retail optimization recommendation to drive incremental sales. I always refer back to this opportunity during interviews since it not only provided me valuable hands-on experience but also challenged me to take being a team player to the next level.
What is a class or experience that sticks out in your mind and why?
The brand strategy course I took sticks out in my mind. It taught me how to differentiate between goals and objectives and how multiple tactics layer up to strategies to meet objectives
How has the Northwestern network helped you in your career?
The Northwestern network is very open and willing to help. I never feel hesitant to reach out to an alum or an old classmate or professor for career advice.